Blueberry Liqueur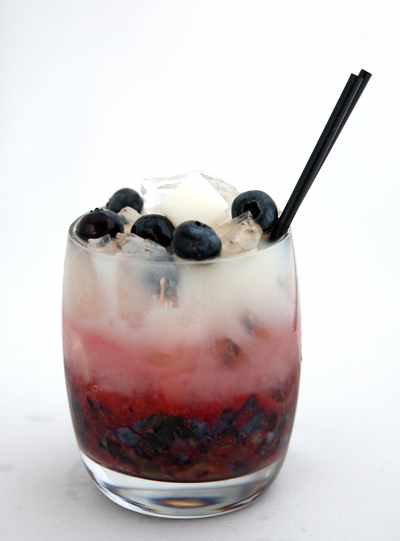 Yield: 3 cups
Ingredients:
3 c Fresh blueberries or blackberries
1 ea Clove
1/2 c Sugar syrup (see recipe)
2 c Vodka
1 ea Lemon wedge, scraped peel
Note: Blueberries can be bought in season (May to Sept). Avoid stained baskets and DO NOT rinse until ready to use.
If freezing, do so before rinsing.
Instructions:
Rinse with cold water.
Rinse berries and lightly crush.
Add vodka, lemon peel, and clove.
Pour into dark bottle and store for 3-4 months.
Strain through dampened cheesecloth squeezing out as much juice as possible.
Add sugar syrup to taste and store another 4 weeks.
Liqueur will tend to be on the watery side.
Try adding glycerin if a thicker consistency is desired.
Good for baking.