Banana Blueberry Bread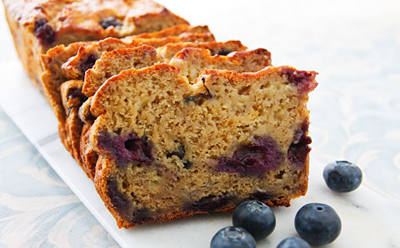 Ingredients:
1 3/4 c Sifted flour
2 ts Baking powder
1/4 ts Baking soda
1/2 ts Salt
1/3 c Butter
2/3 c Sugar
2 Eggs
1 c Bananas, mashed
1 c Blueberries
Instructions:
Sift together flour, baking powder, soda, and salt. Set aside.
Cream butter and gradually beat in sugar until light and fluffy. Beat in eggs one at a time. Add flour mixture and banana alternately in three parts.
Gently stir in blueberries. Turn into oiled 9 x 5-inch loaf pan.
Bake at 350 degrees F. for 50 minutes. Turn out of pan to cool. Preheat oven to 400 degrees F. Coat a regular 12-cup muffin pan with nonstick spray.
In a large mixing bowl, thoroughly mix the flour, sugar, baking powder, salt, and cinnamon.
In a small bowl, mix the berries, milk, applesauce, bran flake cereal, and egg whites.
(If using frozen berries, thaw them until you can separate them with a fork; a microwave will do this nicely.
Then allow any melted ice and juice to drip off. )
Stir the liquid ingredients into the dry ingredients until the dry ingredients are just moistened, about 20 strokes.
Overmixing will result in poor-textured, tough bread.
Spoon the batter into the sprayed muffin tin, dividing it evenly among the 12 cups. Bake about 20 to 25 minutes until the muffins are browned, or until a toothpick inserted in the center of a muffin comes out clean.
Allow the muffins to sit for about 2 minutes in the tin, then transfer them to a wire rack to cool.
Or place them in a cloth-lined basket, covering the muffins with the edges of the napkin, and serve them warm.